CASE STUDIES / Remediation of a Residential Fuel Oil Spill
REMEDIATION OF A RESIDENTIAL FUEL OIL SPILL
When a homeowner's above ground fuel storage tank leaked, it affected much more than their lawn. Owners of the two-story residence in Northern Ontario relied on bedrock water wells for their drinking water and the soil was less than two metres deep at the spill location.
The complexity of their problem was worsened by the proximity of neighbouring properties that turned out to be affected.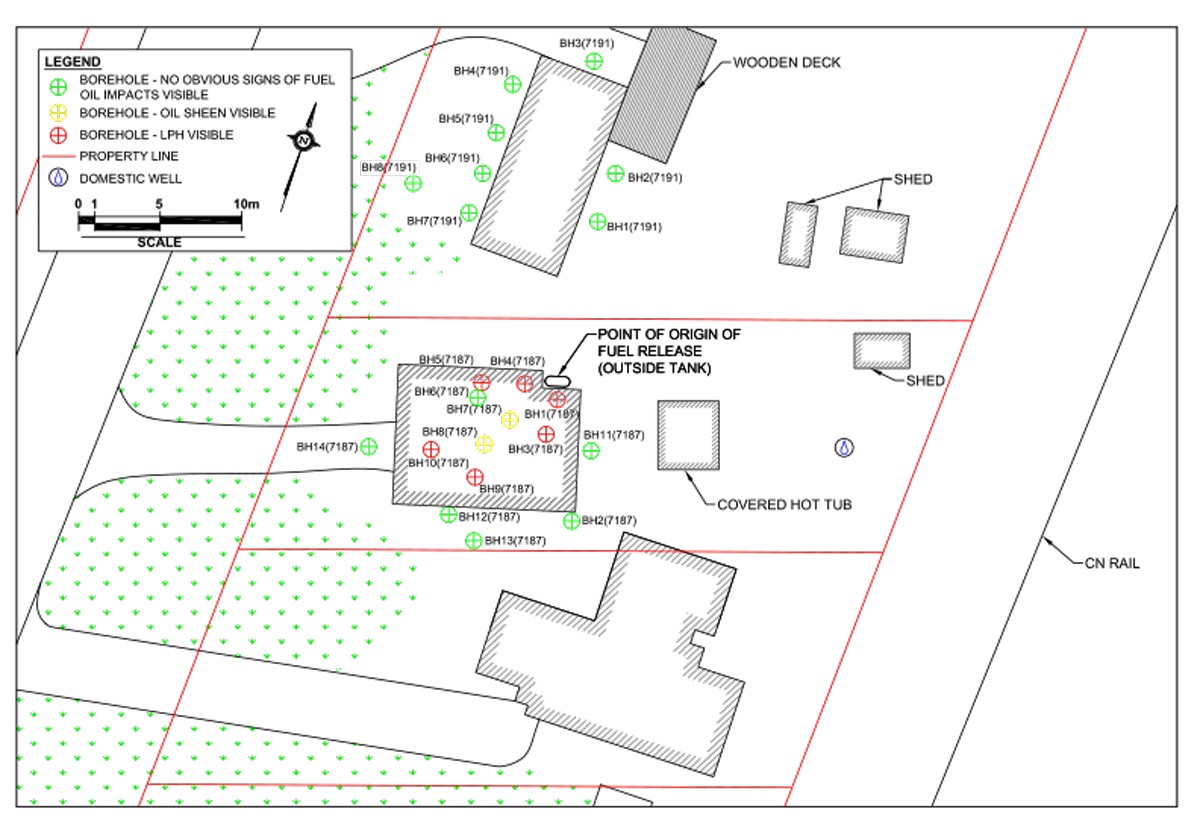 Cleanup of a fuel oil spill from an above ground storage tank
CM3 was called in to provide environmental consultation after the damaged storage tank had been replaced. We were chosen because of our success handling residential remediation projects like this more than 500 times over the past 15 years throughout North America.
We conducted a visual inspection during our initial site visit and collected shallow soil, surface water, and well water samples to define the extent of the contamination. The released fuel had migrated to a shallow depression between the site and a neighbouring property where, unfortunately, we found a patch of oil-soaked grass and evidence of oil under its residence.
We monitored the initial excavation of contaminated soil from the site and the neighbouring property, encouraging that as much unaffected topsoil and subsoil be saved and stockpiled as possible. We remained onsite to supervise the drilling of 22 boreholes that we used to collect soil samples to delineate the area of contamination.
We collected water samples from an additional nine boreholes within the bedrock that we had converted to monitoring wells to determine whether the soil or bedrock were contaminated. Samples were analyzed for benzene, toluene, ethyl benzene, and xylenes (BTEX), and petroleum hydrocarbons (PHC) and we compared these levels to those considered acceptable as per government regulations for this type of soil and land use.
We found that soil contamination was likely beneath the entire footprint of the site residence and at least half of the neighbhouring residence. We determined that structural support or moving the homes followed by soil excavation and disposal was the most efficient approach given soil type and extent of impact.
Soil excavated from under the two houses was disposed of at an appropriate offsite facility. We provided environmental consulting during pressure washing and application of oxygen releasing compounds on the bedrock surfaces of the remedial excavation underneath the site residence.
CM3 supervised the installation of nine ground water monitoring wells in bedrock along the perimeter of the excavation and assumed limits of contamination. We developed these using dedicated sampling tubing to ensure that subsequent ground water samples were representative of overburden ground water conditions.
The homeowners of both sites were pleased to learn that all ground water samples, taken over three months following the cleanup, had undetectable levels of BTEX and PHC. CM3 oversaw the decommissioning of all monitoring wells as per Ontario regulations.
Experts on this Case Study
Bruce D. Cochrane
BSc, PGeo
Principal Consultant
Marc MacDonald
PEng
Principal Consultant